What's Going Around
or, The Studybugs Blog
Blog Home | Studybugs Home | @TeamStudybugs
By popular demand, today we're introducing new tools for tracking the 'virtual' attendance of remote learners – that is, pupils working from home due to lockdowns.
Central to this is a new set of attendance codes that let you monitor attendance in the same way you do for in-person learners – helping identify safeguarding or other attendance patterns early so you can take prompt action.
Show me the codes already!
There are eight new codes in all, which mirror standard attendance codes and are distinguished by a dark background representing a stylised video-call box.
| Studybugs Code | Label |
| --- | --- |
| - | Remote learner – no mark |
| / | Remote learner – present |
| N | Remote learner – absent, reason unknown |
| O | Remote learner – other unauthorised absence |
| I | Remote learner – ill |
| Co | Remote learner – confirmed case of Covid-19 |
| M | Remote learner – medical appointment |
| C | Remote learner – other authorised absence |
As with our other Covid-19 attendance codes, the remote learner codes let schools simply record reality, without having to worry continually about the DfE's latest statutory reporting policies. All the new attendance codes are automatically handled in the correct way (which currently means they'll be entered in your MIS as "X" codes).
How do I get going?
Studybugs Registers is the easiest way to get started.
First, bulk mark all remote learners with the - code (email us and we'll do this for you). Then, when teachers open up their register, they simply need to tap on each child's face to mark them as present or absent. Remote learners will be shown in a stylised video-call box to differentiate from in-person learners. Children who are expected in school will automatically be marked with codes / or N, and those expected remotely will be marked / or N. That's it!
Classes and bubbles can be set up however you like – remote-learner-only classes, or combined in-person and remote classes, depending on how your teachers will be teaching.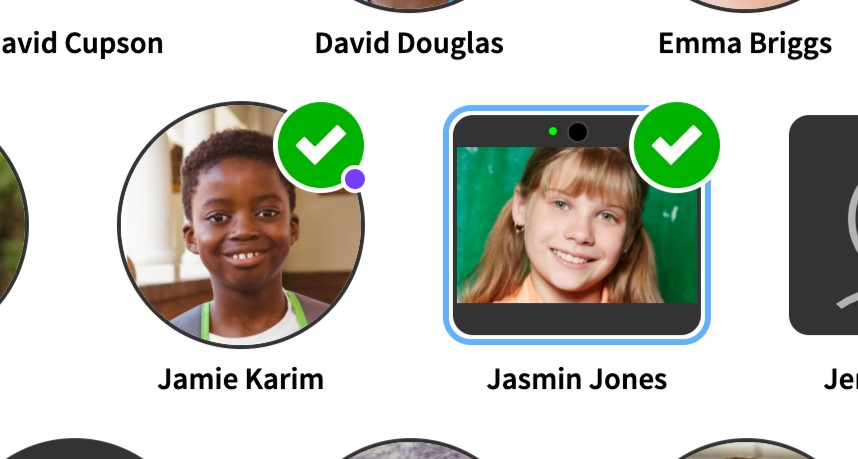 What happens to absence reports from parents?
Absence reports will automatically be entered as an I for remote learners, so you can continue to track illness absence. Encourage your parents to continue reporting absence normally so you can build the picture of a child's engagement with remote learning.
What about reporting?
The remote learner codes are supported in all existing attendance alerts. For example, you can receive a daily or weekly breakdown of remote learners who didn't attend, or who are a confirmed case of Covid-19 as required for the DfE's educational setting status form. and we can set this up for you.
The new codes require Studybugs Attendance. Register-taking for teachers requires Studybugs Registers.
As always, what you think.
Posted
13 January 2021
Share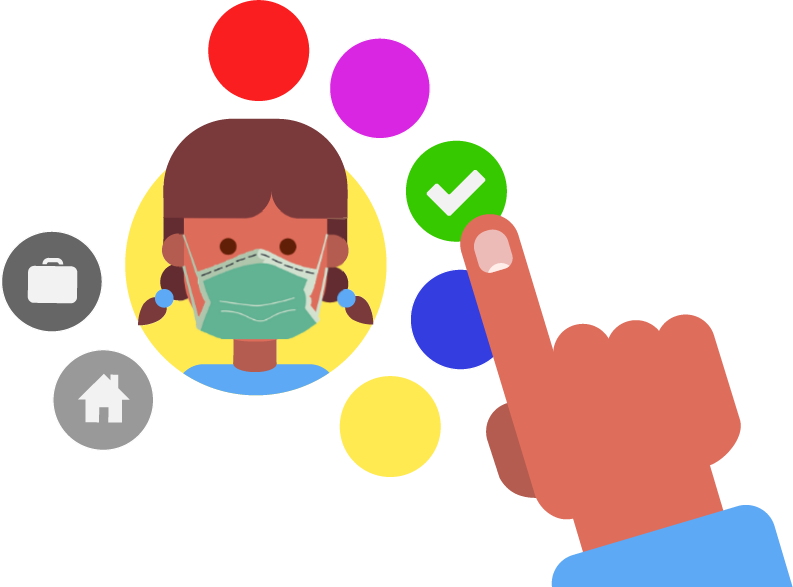 When we first launched our groundbreaking supervised self-registration system, we weren't anticipating a global pandemic. Thankfully, it's really easy to comply with the government guidelines and make everyone feel safe and comfortable while using Studybugs Registers. It just takes a few small adjustments to the regular process.
Here are the two adapted approaches we're seeing our schools take:
1. Children self-register with additional hygiene measures
Schools can still have children self-register and adhere to the guidelines. Younger children in particular are not necessarily expected to socially distance within their own bubble, but you can encourage children to use hand gel before tapping in and to keep their distance if they're waiting to register.
2. Teachers tap in for children
If you'd rather avoid children touching the same surfaces, you could have staff register the children as they enter the classroom. This is still considerably quicker than calling out names the old way. You could even make a game of it — we've heard of teachers making it fun by asking children which part of their face they should tap to register them today... "today, I will touch your nose!"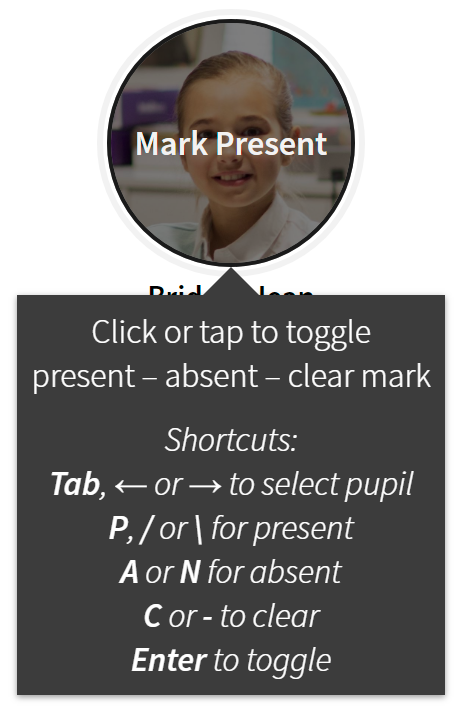 The approach you choose will, of course, depend on what's right for your school and your pupils. It may even be that you take a different approach for different year groups, in line with their ability to maintain distance and avoid contact.
The choice is yours, but you certainly don't need to let Covid-19 get in the way of more efficient registrations! In fact, increasing your learning time each day is doubly important now, given the interruptions to learning this year. It's just one of the reasons hundreds of primary schools across the country use Studybugs Registers every day.
Posted
11 November 2020
Share
Please sign in with your school staff account to see this blog post.
Don't have a school staff account?
If your school's registered with Studybugs (or you're not sure), please .
Otherwise, register your school for a free account.
Posted
3 September 2020
Share
Please sign in with your school staff account to see this blog post.
Don't have a school staff account?
If your school's registered with Studybugs (or you're not sure), please .
Otherwise, register your school for a free account.
Posted
26 June 2020
Share
Please sign in with your school staff account to see this blog post.
Don't have a school staff account?
If your school's registered with Studybugs (or you're not sure), please .
Otherwise, register your school for a free account.
Posted
22 May 2020
Share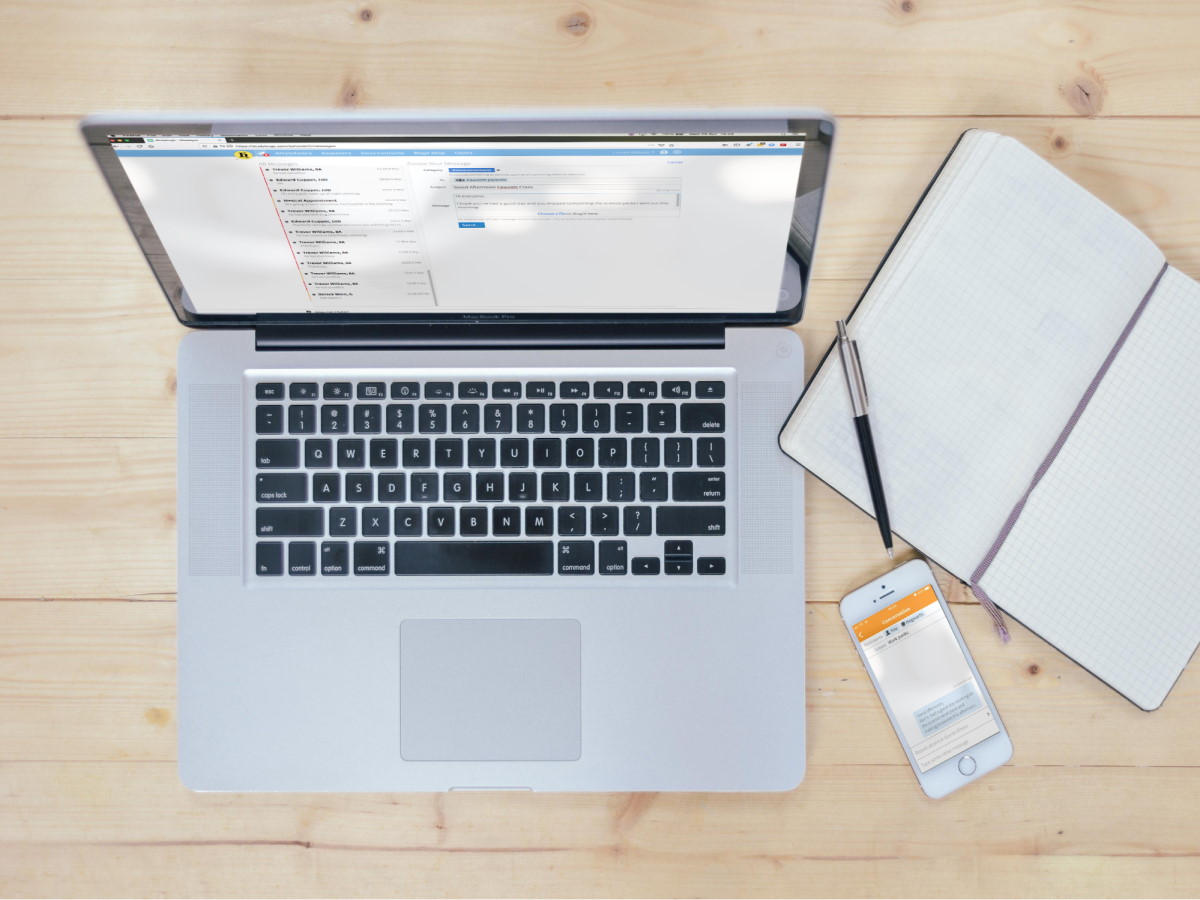 We've noticed a lot of schools making good use of our free Messages add-on during the lockdown to reach pupils and parents, send work home and check up on children's wellbeing.
We're really pleased to see this, so to help all Studybugs schools stay connected to pupils and parents, we've put together our best tips to make the most of Studybugs Messages.
1. Use Studybugs to check on children's wellbeing
Learning from home is going to be an unusual experience for all pupils. Whether you're worried about vulnerable children or just want to check in with everyone, it's easy to keep in touch with parents using Studybugs.
As long as a parent or carer has a Studybugs account or an email address in your MIS, you'll be able to reach them via Studybugs. Parents will receive messages directly to their app or via email. You'll also see read receipts, so you can be sure a parent has got your message.
2. Create bespoke messaging groups

We automatically pick up on classes and year groups from your MIS, but we can also set up specific groups to make it easy to get messages out to the right parents.
Many schools have created bespoke messaging groups such as "Key Worker Parents" or "Free School Meals", so they can keep in touch with the families they need to most at this time.
There are two ways to create a bespoke group in Studybugs.
Option 1
You can create a custom group in your MIS with the parents you'd like to message. Let us know when you've done this and we'll make it appear in Studybugs for you. It'll then update automatically whenever you make any changes to the original group in your MIS.
Option 2
We can create a group for you. To do this, you'll just need to send us over the list of names. You'll then need to let us know about any future changes to the group, so we can update it.
3. Give teachers access to Messages
Many schools have chosen to give their teachers access to Messages so they can contact their classes directly. It's a straightforward and direct way for class teachers to check in with parents and pupils, send work out and offer help for pupils who are learning at home. and we can set this up for you.
4. Send work home as attachments
You can send work packs home as attachments or send out links to online lessons and learning tools. Messaging a specific class is easy — just type the class name into the "To" box.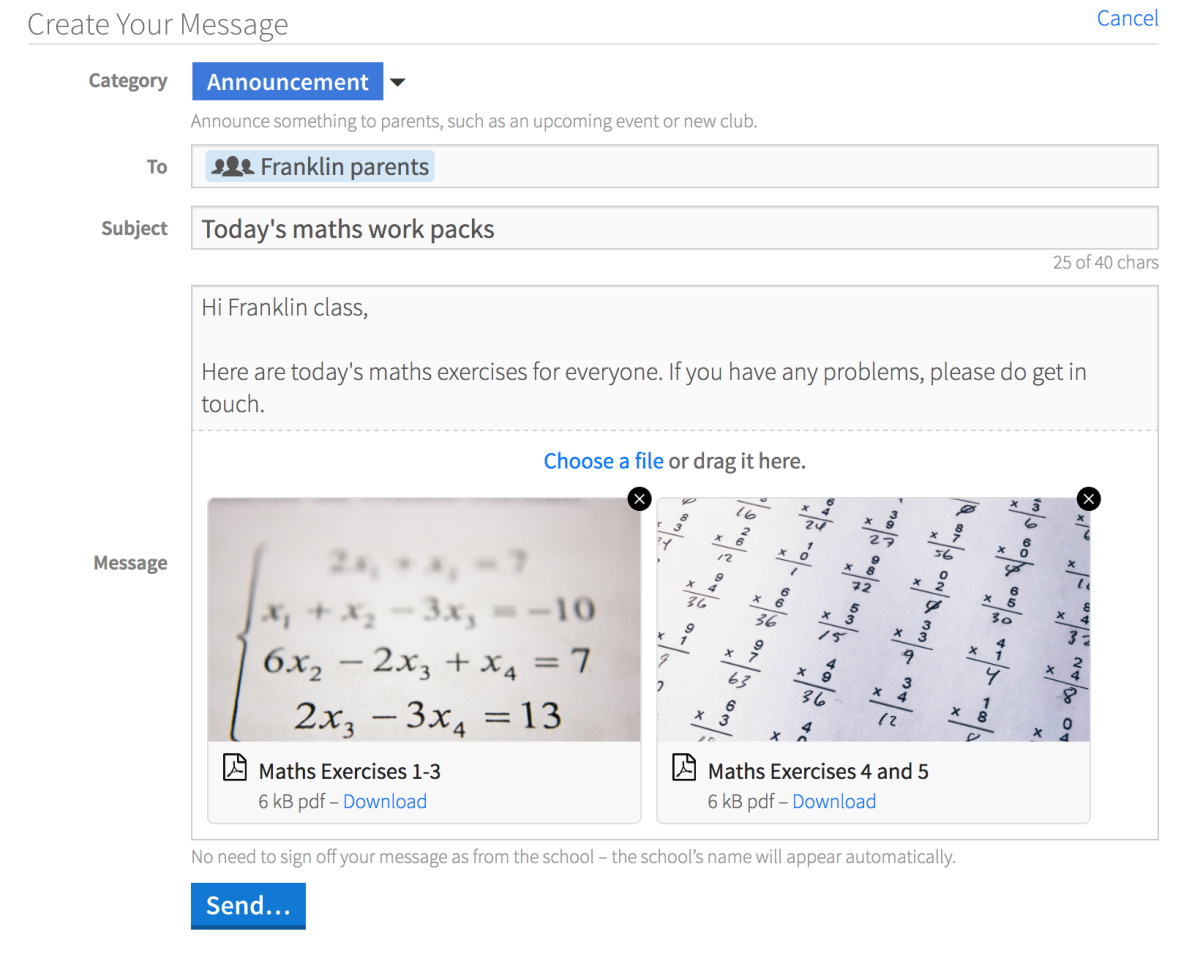 5. Contact us when you need help
As always, we're available throughout the school day (and beyond!) to help you create messaging groups, set up new staff members, and answer any questions you may have about using Studybugs. at any time and we'll get back to you as quickly as we can.
When schools reopen, we'll be ready for normal service to resume. But until then, it's great to see so many schools using Studybugs Messages.
Don't yet have a Studybugs school account?
If you'd like to start using Studybugs in your school to communicate with parents for free, register here.
— Lucas Abbott
Posted
6 May 2020
Share
In light of the Covid-19 pandemic, we would like to ask you to keep reporting your child's symptoms via Studybugs, even through school closures.
In the Studybugs app, you just need to open the family menu (top-right), select a child, then report them as ill or fine.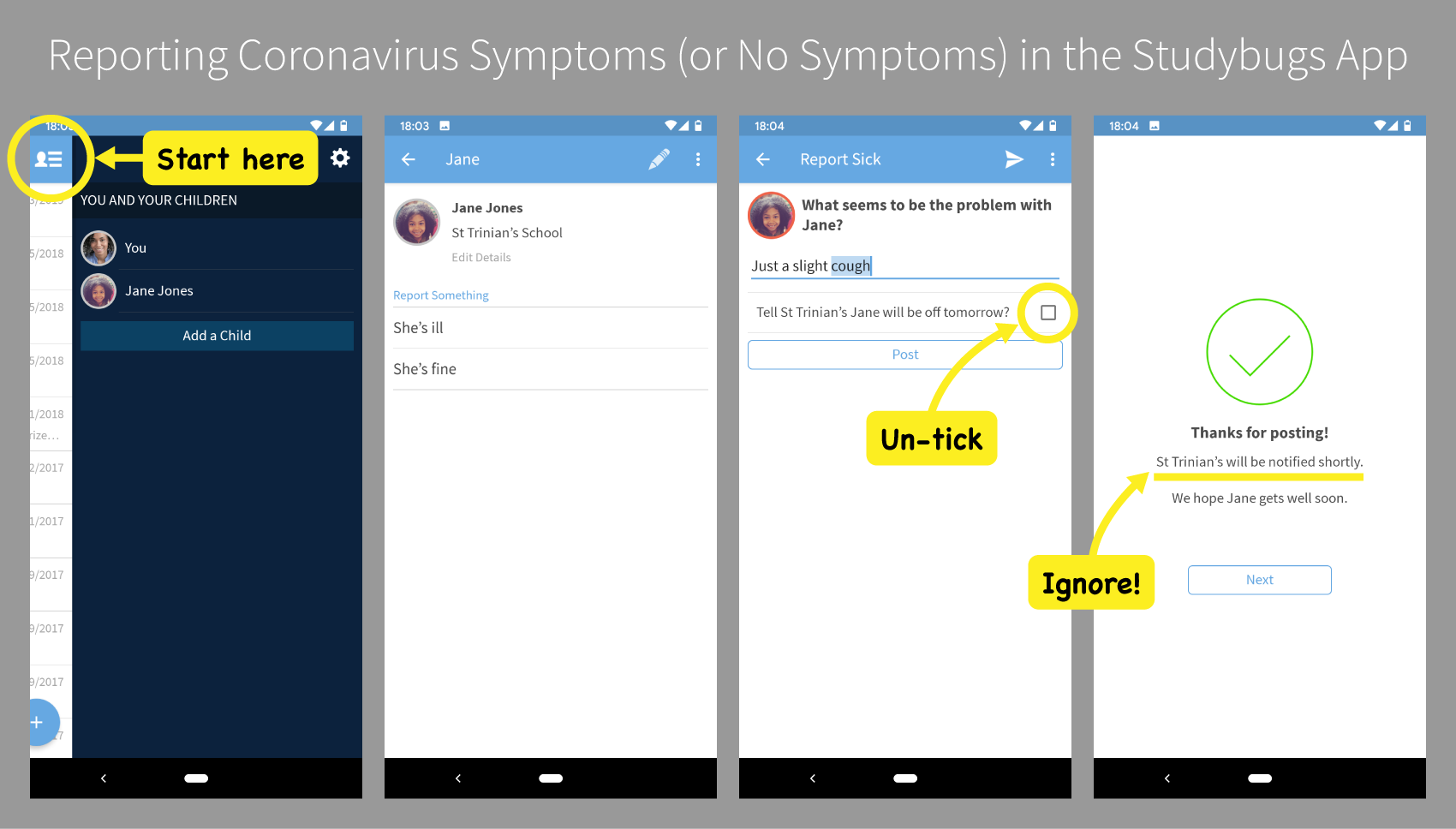 Make sure you untick the box if they're not going to be absent from school. The message won't go to your child's school (please ignore if it says they'll be notified – we'll be removing this soon).
In the Studybugs website, just follow the prompts. Report now
What about the rest of my household?
You can post your own symptoms via Studybugs in the same way as for your child.
We don't currently offer a way for you to report for anyone other than you and your children. Your partner, or any other adult member of your household, can register with Studybugs and report for themselves (but only one of you should add your children and report for them).
This is something we hope to streamline over the coming weeks.
What if we're fine?
It's really important for researchers to know this too – just as important as knowing your symptoms, in fact. If you or your child don't have any symptoms, you can just say you're fine.
How often should I report?
If you can report daily, that's great. After your first report we'll email you a daily reminder so you don't need to remember (you can opt out of this if you like). If you miss a report or two though, not to worry – reports whenever you remember are very useful too.
Could you make it quicker to report each day?
We're working hard to adapt and streamline Studybugs for coronavirus symptom-tracking, and lots of improvements are on the way. We're also working with a team of epidemiologists to collect further data that will be useful to researchers. If you're registered with Studybugs, we'll keep you posted as we roll out updates over the comings days and weeks.
Meanwhile we very much welcome your .
What's this for?
All symptom information is first completely anonymised, before being made available to researchers (in various organisations including Public Health England) working on coronavirus. Amongst other things, it will help shed light on the effectiveness of school closures, and help inform the decision as to when schools should re-open.
The anonymised symptom information is also shown on our "What's Going Around" map which you'll see when you're signed in to our website.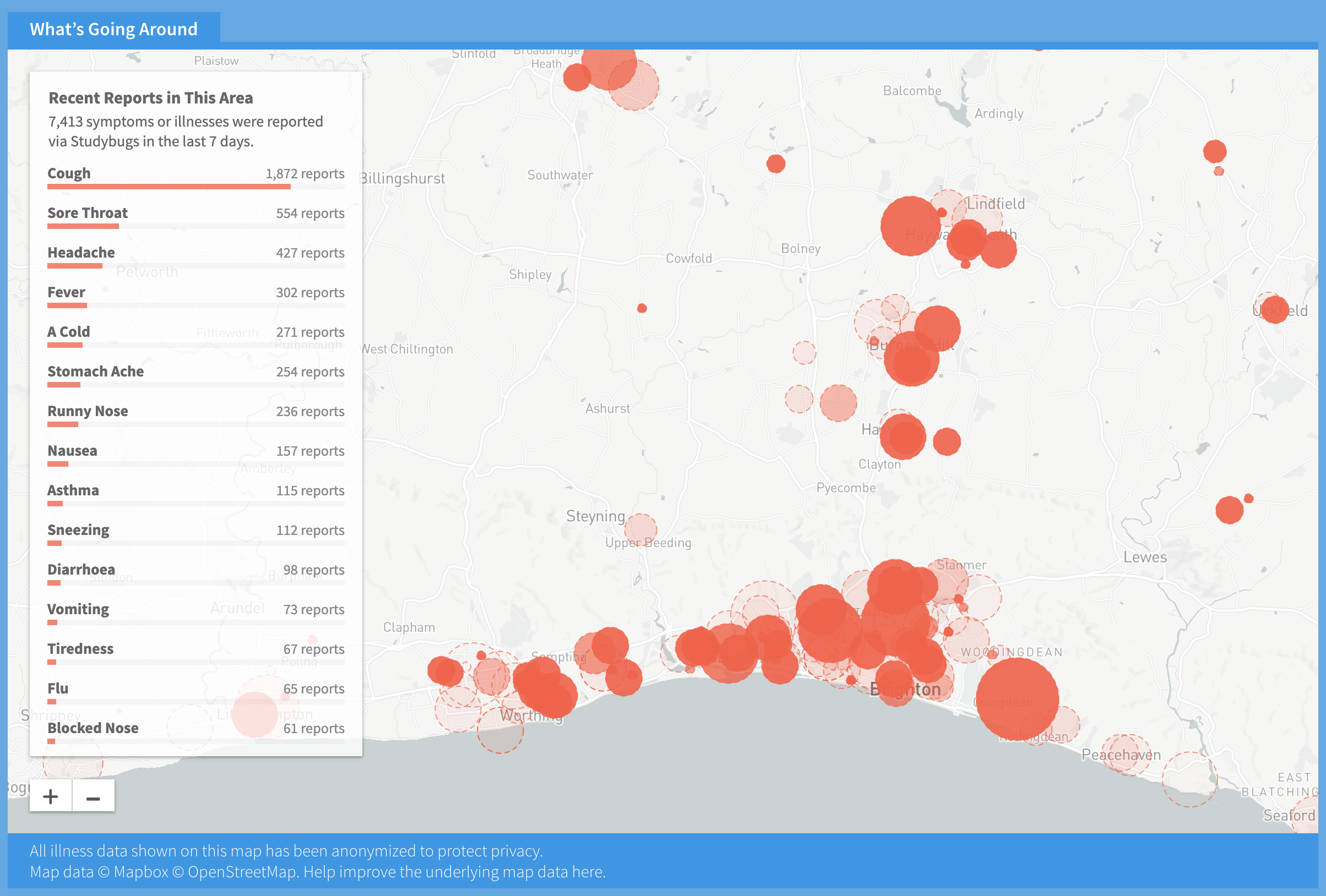 Why is Studybugs doing this?
Studybugs was started back in 2014 to track the spread of illness and help keep children healthy and in school. So this is what we do. We're funded by government grants and by schools, and we don't make any money from data (the anonymised data we collect is available free of charge under an open data licence) or have any plans to introduce advertising. The Studybugs platform is available free of charge to all, for ever.
We're committed to ensuring the data we're collecting, with your help, is put to good use and can make a positive difference in tackling the pandemic.
Thanks for your support.
— The Studybugs public health team
Posted
23 March 2020
Share
Please sign in with your school staff account to see this blog post.
Don't have a school staff account?
If your school's registered with Studybugs (or you're not sure), please .
Otherwise, register your school for a free account.
Posted
10 March 2020
Share
Please sign in with your school staff account to see this blog post.
Don't have a school staff account?
If your school's registered with Studybugs (or you're not sure), please .
Otherwise, register your school for a free account.
Posted
6 February 2020
Share
Please sign in with your school staff account to see this blog post.
Don't have a school staff account?
If your school's registered with Studybugs (or you're not sure), please .
Otherwise, register your school for a free account.
Posted
25 November 2019
Share
When I was at school, we used to line up outside the classroom at 8.45am and wait for our teacher to let us in.
We'd then spend some time taking our seats and chatting, before our teacher would quieten us down to take the register. By the time that was done, it would be gone 9am and break time would already be less than an hour away.
It all seemed very normal to me, as I'm sure it would to many others. But when I started working for Studybugs, I realised just how much time it wasted every single day. How unnecessarily long the whole registration process used to be. Because I found out there's a better way.
Get Kids to Register Themselves as They Enter the Classroom
You see, Studybugs has developed a very smart supervised self-registration service for schools. With Studybugs Registers, kids simply arrive, pop their coat on their peg, put their book bag away and tap the screen to mark themselves present.
What my teachers struggled to do in 15 minutes, schools can now do in under 4. With kids self-registering under supervision as they come in, you save all the time that was previously wasted waiting for kids to sit down, getting them settled, and calling out,
"Jack."
"Here, sir."
"Jasmine… Jasmine? Has someone seen Jasmine today?"
No, sir. Jasmine isn't in today. And in a Studybugs school, we'd know that already, because Jasmine's parents would already have reported her absence using the Studybugs app.
But anyway, where was I going with this? Ah yes, saving time…
Gain 23 Minutes of Teaching Time Every Day
Imagine how quickly you could start the day if you didn't have to take the register manually after the kids have come in. Imagine being able to start your day as soon as they've walked through the door. Oh, and if your pupils make lunch choices every morning, they can do that on the way into the classroom too.
When we first introduced Registers, we sat in and timed actual registration sessions in schools to see how effective it was. We found that, on average, teachers gained 23 minutes of teaching time every day. That's an extra three weeks every year.
See How Much Time You Could Save When Taking Registers
But that's enough from me. Try out our calculator to see for yourself how much time you could save by using Studybugs Registers.
Want to Find Out More?
We'd love to show you how it works in person.
— Lucas Abbott
Posted
11 October 2019
Share
Please sign in with your school staff account to see this blog post.
Don't have a school staff account?
If your school's registered with Studybugs (or you're not sure), please .
Otherwise, register your school for a free account.
Posted
9 September 2019
Share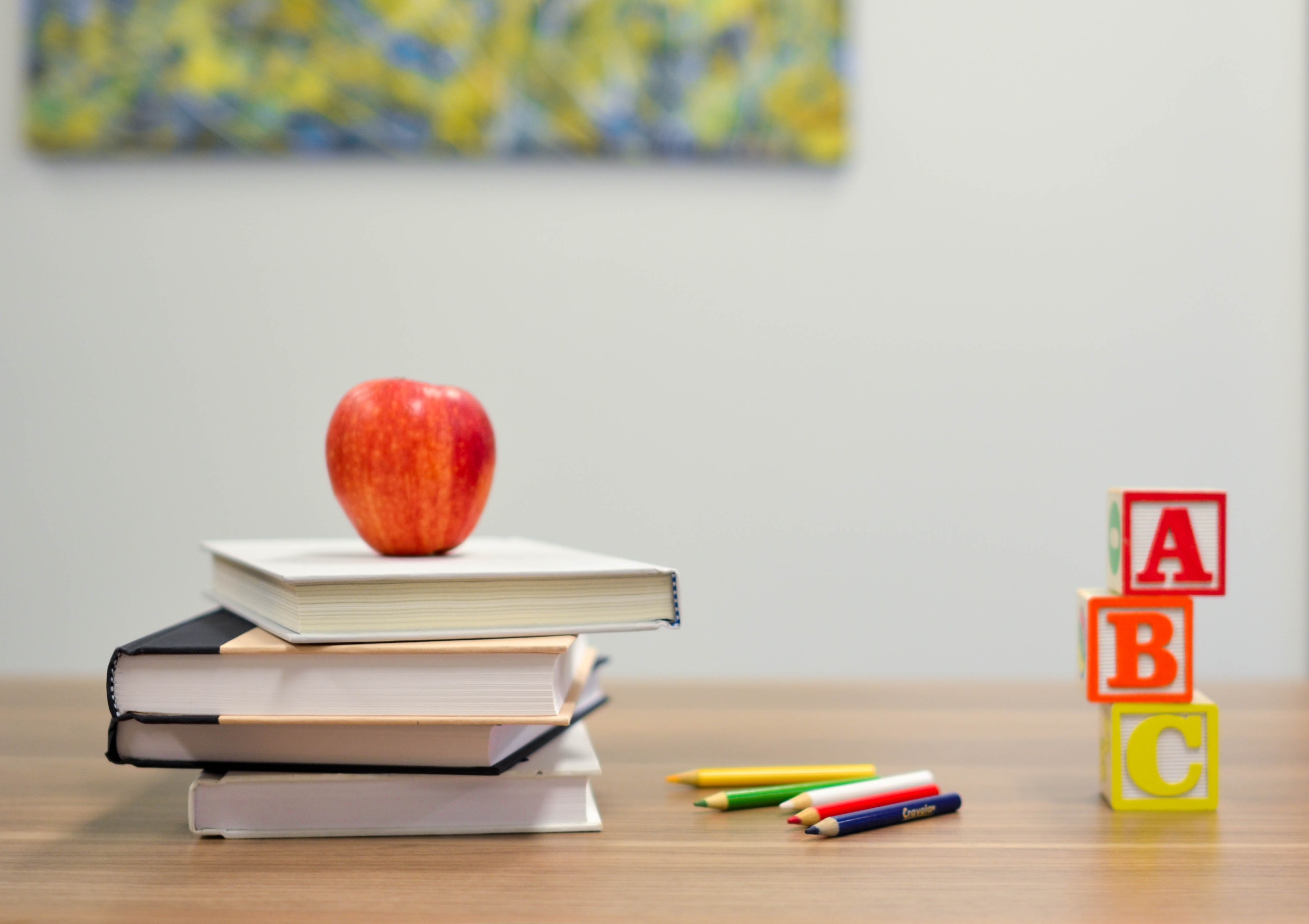 Whether they're moving up a year or moving school altogether, it's natural for kids – and parents! – to feel anxious about the change a new school year brings. But with a little organisation, you can help your child make their best possible start to the year.
Here are 4 tips to help your child with the change.
Plan ahead

A lot of the anxiety children feel about change comes from uncertainty. But you can help your child feel confident by talking things through with them ahead of time.

Set aside time in the evenings to talk through their timetable or look at new homework. Prepare uniforms, lunches, textbooks and PE kits the night before they're needed to avoid any last-minute stresses. And if they're moving school, you could also practice the new journey to school together.

Get into a routine

Getting into a routine is a great way to build healthy habits. It also helps your child feel like they have control over important parts of their day. So encourage your child to wake up with plenty of time before school. Try to eat together in the evenings and chat about their day. And set a reasonable bedtime, so your child can recharge for the next day.

Be positive

Your child could have lots of conflicting feelings about starting the new year. You can help put their mind at rest by being positive about the changes. If they're nervous, you can also reassure them that lots of other children will feel the same way.

Don't push too hard

Once school starts, simply be there to talk if they want to share. But it's ok if they're not ready straight away. Try to avoid asking if they've made friends yet, or if they're settling in well, as it might make them feel like they're taking longer than other people. Instead, ask what they did at lunchtime or what they learnt about in one of their lessons.
Of course, the most important thing is just to be there for your child any way you can. Some kids will find it easy, some a lot harder, but with time, we hope every child will come to really enjoy their time in school this year. So from everyone here at Studybugs, we wish you and your child a very happy, healthy new school year.
Posted
5 September 2019
Share
If you use the Studybugs app and your child suffers from asthma, researchers at Brighton & Sussex Medical School (BSMS) and the Royal Alexandra Children's Hospital need your help!
They're conducting a study looking at innovative ways to improve management of childhood asthma, and are looking to recruit parents – and school staff – to take part.
Each year many children end up in hospital with acute asthma attacks and some of them will die of this each year. Most attacks are preventable with the right management. The Royal Alexandra Children's Hospital is working closely with Studybugs and this study is part of a broader project called "Inspire" which you can read about here.
Participation involves a 30-minute interview (on the phone or in person) exploring use of the app for health management purposes.
The researchers are also interested in speaking with school staff who are familiar with the Studybugs system (but don't necessarily have children with asthma).
If you'd be willing to take part, please let us know and we'll put you in touch with the research team.
Posted
14 July 2017
Share
What if there was a way to improve the health of children with asthma and reduce the number of days they have to miss of school? Well, the 'Inspire' project (everychildisdifferent.org/inspire), officially launched today, aims to do just that.
The project is a collaboration between the Brighton and Sussex Medical School (BSMS), the Royal Alexandra Children's Hospital, Brighton & Hove City Council, public health specialists EpiConcept, and Studybugs.
The UK has among the highest prevalence rates of asthma symptoms in children worldwide, with on average three children with asthma in every classroom. Every year more than one in five children misses school due to asthma-like illness, and children with severe asthma may miss many weeks of vital education.
Professor Somnath Mukhopadhyay, leading the project for BSMS, said: "The connection between the health of children and school attainment is well documented. Not only are these children missing out on the quality of life they deserve, but their asthma has a real knock-on effect, impacting on their education, and possibly even their future careers."
Inspire will involve collecting data on asthma-related illnesses via the Studybugs app, and delivering tailored advice to improve treatment. We're currently working hard on various enhancements to the app to make this possible. Meanwhile we're inviting schools who haven't already done so to register for the free version of Studybugs and invite parents to download the free app.
Schools and parents already registered with Studybugs will automatically benefit from the project and don't need to do anything extra to take part.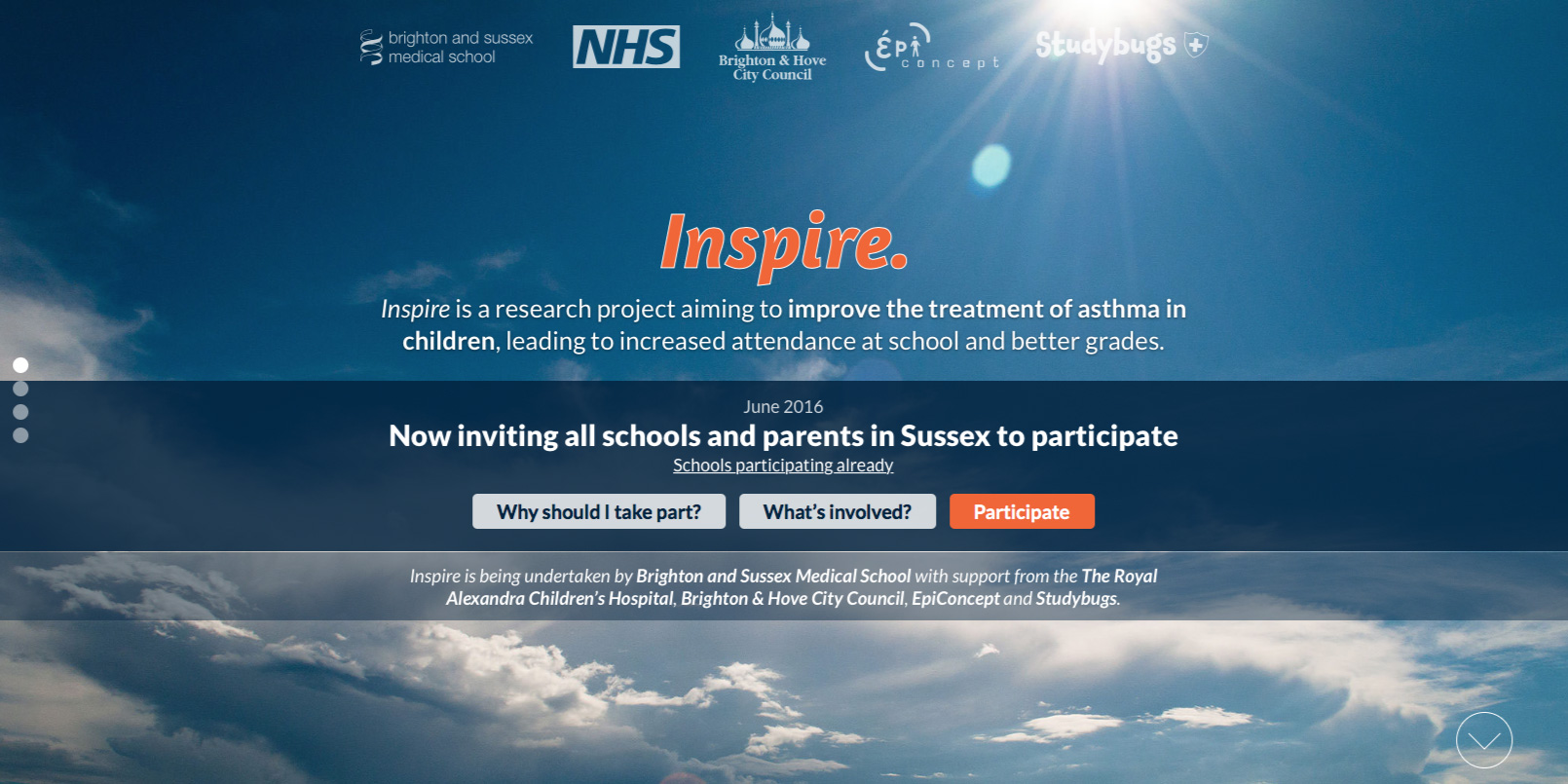 Posted
27 June 2016
Share
The Director of Public Health, Dr Tom Scanlon, and his team at Brighton & Hove City Council have just published their annual report, which this year focuses on social media. It's an enjoyable read/watch and we'd recommend it to anyone interested in public health.
We're delighted to be part of the report – see below.
Building on our excellent take-up in Brighton & Hove, we're now working with the City Council and other local public health organisations on some exciting developments in children's health – watch this space!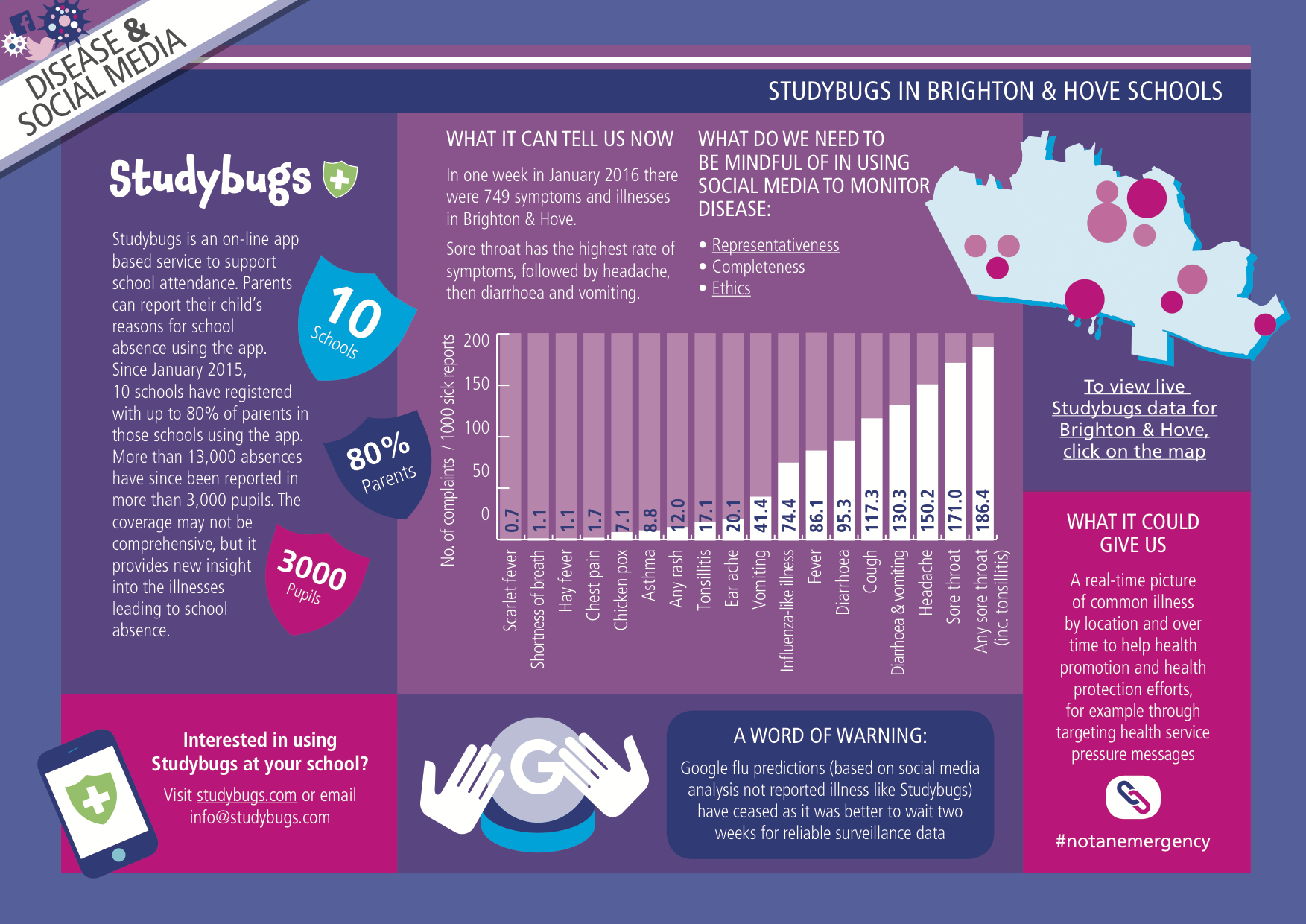 Posted
12 May 2016
Share
We're excited to announce we now have a new name: we are Studybugs.
When we started out a couple of years ago, we set out to build a neat little social media tool for seeing what illnesses are going around, and the name 'Sickly' seemed to be suitably quirky. But since then we've grown into something much bigger, with a powerful online system now used by many thousands of people, that aims to improve children's health and – ultimately – achievement at school.
We feel the name Studybugs fits much better with where we are now and where we're heading. It reflects both the children – the "study bugs" (preferably studying hard rather than being sick!) – and our growing work in public health and the "study of bugs". It's appropriate, positive and distinctive, plus it leaves options open for future development of our apps and services.
We're excited for what the future holds as we continue on our journey as Studybugs!
We hope you like the new name. If you've any comments, good or bad, please do send us a note at feedback@studybugs.com – we'd love to hear from you.
P.S. If you're already a user of Sickly, there's nothing you need to do. The old Sickly apps continue to work as before and links automatically redirect to our new website studybugs.com. Oh, and on the legal side of things, we're the same company as before, just with a different name, so our commitments to our customers, users and partners haven't changed.
Posted
4 April 2016
Share