What's Going Around
or, The Studybugs Blog
Blog Home | Studybugs Home | @TeamStudybugs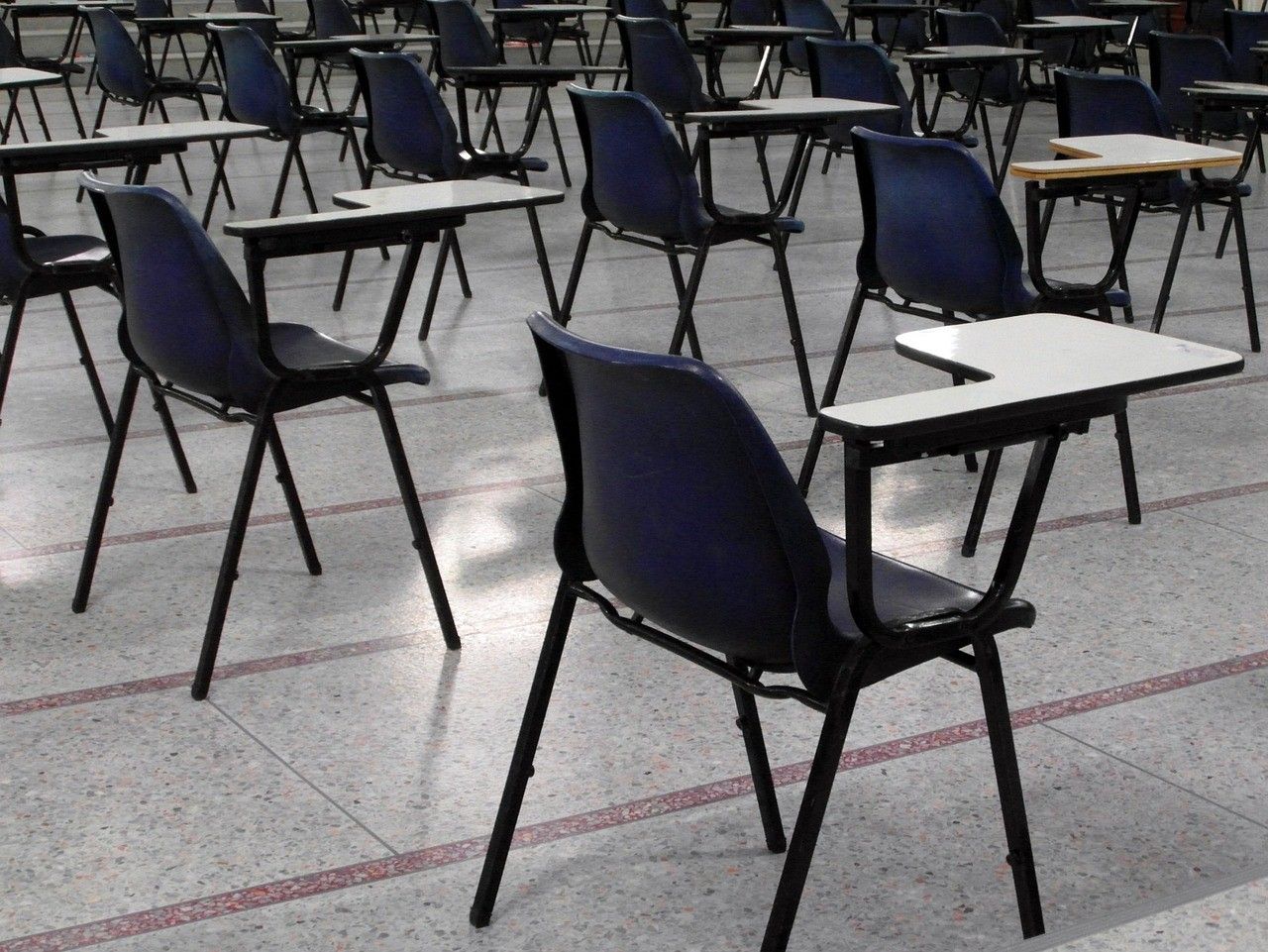 Absence is one of the defining problems of this school year. So much so that it's consistently made national news. But what are the reasons behind this high absence rate? And more importantly, what can we do about it?
Attendance Hasn't Recovered Since the Pandemic
Although Covid is a no longer a major topic of conversation, it's a constant presence in discussions around school attendance. Because it's a watershed. There's attendance before Covid and attendance after. And they're distinctly different.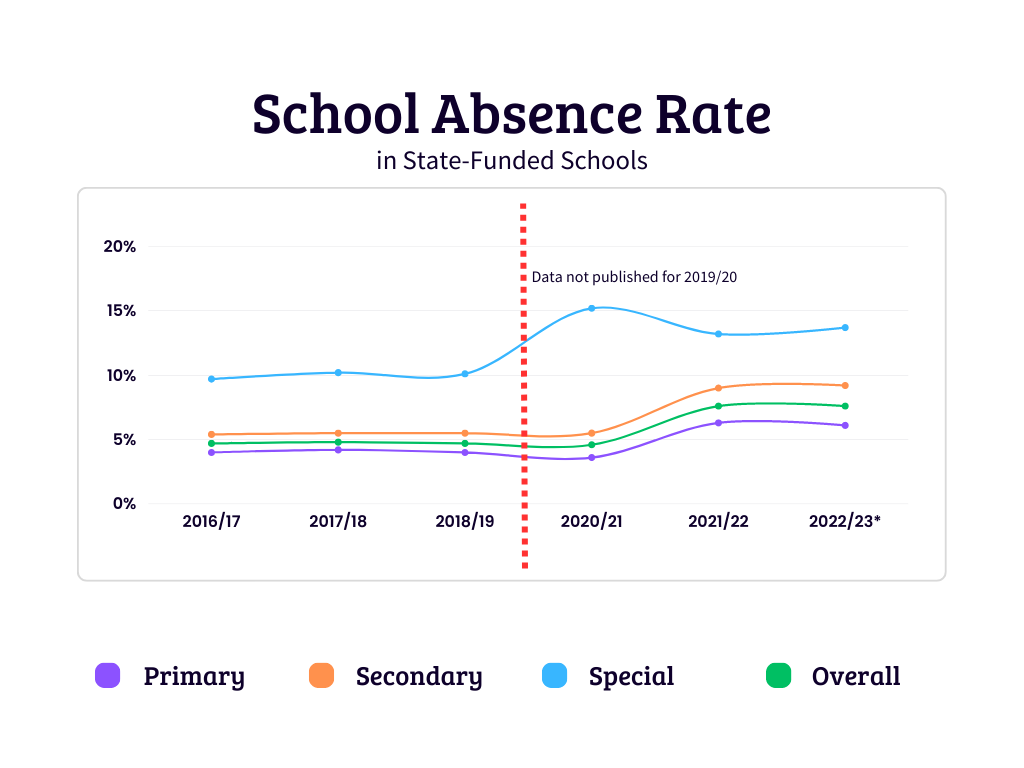 The overall absence rate is 7.6% across all state-funded schools (according to government statistics from May 2023). This is compared to 4.7% in the year before the pandemic.
It's clear that the pandemic has had a massive impact on school attendance. But why is absence still so high two years after the last Covid school closures?
What Reasons Are Given for High Absence Rates?
There are a number of theories being bandied about.
Attitudes to attendance have changed since Covid

Pupil anxiety is keeping them off school

There's a rise in trauma, deprivation and poverty

Parents are keeping children off with minor ailments

Parents are working from home on Fridays and keeping their children off

Budget cuts have led to reduced pastoral support

Local authorities (LAs) aren't able to keep up with demand
It's quite a list, spanning from children's mental health to blaming parents to systemic pressures. Is there one stand-out reason? Or is it that they're all combining to create one big absence-inducing cocktail? Are some of them even true?
I don't have the answers to all those questions. And from what I've seen, no one else seems to either. With that in mind, all we can do is focus on:
What we know.

What we can act on.
What We Know:
Mental Health Issues are Causing Absences
Studybugs is uniquely placed to offer insight into illness absences, as we collect anonymised illness data from absence reports across the country. Earlier this year, we did some research into mental health absences and found that, as a percentage of overall illness absences, they're considerably higher than before. In fact, the number of mental health related reports per user is up by 131% since before the pandemic.
What We Know:
Illness Absences are Up on Pre-Covid Levels
Looking at Studybugs data for illness absences, compared to the 2018/19 school year (the last full school year before Covid), there has been:
a 46% increase in the number of sick reports per 1,000 users (adjusted for the school year) that mention "a cold"

an 89% increase in sick reports that mention "cough"

a 43% increase in sick reports that mention "flu"

a 17% increase in "headache"

a 427% increase in "fatigue"

a 325% increase in "stomach bug"
But what about the claim that parents are keeping children off with minor ailments?
Looking at data above, it does seem that cold symptoms make up a higher number of reports than before. We can't know for sure if this is down to minor ailments or symptoms of more severe illnesses, but it certainly seems clear that parents are reporting more illness.
According to statistics from DfE attendance returns, illness absences are at 3.7% compared to 2.5% pre-pandemic. December's attendance was particularly affected with several illness peaking at the same time, whereas they're usually more spread out across the season.
So knowing this, what can we do to address high absence rates?
What We Can Act On:
Helping Pupils with Their Mental Health
Schools and LAs will already have processes for helping pupils suffering with their mental health, but with the high number of cases it can be difficult for even the most equipped places to keep up.
Making sure your processes are efficient and effective is key to ensuring you spot problems early and can support pupils promptly. For example, receiving automatic alerts when mental health key words appear in absence reports could help you identify pupils needing support early.
What We Can Act On:
Coping with Budget Cuts and Understaffing
With too many tasks for too few people, it's no surprise schools and LAs are feeling under pressure. Using technology can be a low-cost way to plug gaps and help staff have the time they need to make a big impact. Whether that's automating attendance tasks at school or increasing efficiency at an LA level.
Maximising Attendance is More Important Than Ever
With so many unknowns and elements out of your control, the best thing you can do is make sure you're doing all you can to address everything that is under your control. This includes:
Putting processes in place to support pupils' mental health

Educating parents and pupils on the need for good attendance

Effectively monitoring attendance and acting quickly when issues arise

Making sure staff are adequately supported in fulfilling their roles around attendance
These are all achievable and actionable things you can do to raise and maintain good attendance.
And if you're struggling with a certain aspect of attendance, don't be afraid to ask for help. If you've got any issues or want to talk through your processes with a Studybugs Schools Consultant, just .
— Lucas Abbott
Posted
19 May 2023
Share